Sedation Dentistry
?
Sedation Dentistry is a revolutionary way to reduce the anxiety that can be produced by a trip to the dentist. Safe and effective calming medications can alleviate stress and can help to make your visit a painless and stress-free experience.
Often, patients with potential dental problems fail to take the proper corrective measures because of the fear of pain or discomfort. Unfortunately, ignoring problems in the present can create long-term complications in the future. Failing to get timely dental work can turn a minor nuisance into a major headache.
Sedation or "No Fear" Dentistry
We use nitrous oxide or "laughing gas" for those patients who have mild to moderate anxiety. The great thing about nitrous oxide is it takes affect quickly but is also completely reversed quickly. This allows the patients to be able to drive home or to work immediately after their appointment.
For those patients with moderate to severe anxiety we use Triazolam or Lorazepam. These drugs put the patient in a deep sleep which allows us to treat for longer periods of time. We can do more work which means fewer visits. This is very important for those patients who hate coming to the dentist.
Many times we use a combination of both Triazolam, Lorazepam and Nitrous Oxide. This allows for a deeper sedation when needed.
Sedation Dentistry is safe and effective and can give you the courage to take control of your dental health. If you have been postponing dental care, Sedation Dentistry May be the right solution for you. Don't put off protecting your smile any longer – call Drs. Mann and Dolfi to explore your options today.
Related Sedation Dentistry Articles
Oral Sedation Dentistry
Step out from under the shadow of fear and into the calm of sedation dentistry. There are safe and time-tested options available to ensure that you have a positive and painless dental experience. Your apprehension and hypersensitivity to pain melt away, yet you remain awake and in control… Read Article
Overcoming Dental Fear & Anxiety
It's possible, even for those people who are the most fearful, to reduce their fear and to learn to have treatment in a way that feels calm and safe. Here's how… Read Article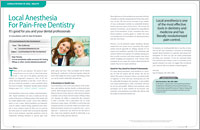 Local Anesthesia for Pain-Free Dentistry
Local anesthesia is one of the most effective tools in dentistry and medicine. It is safe, effective and has totally revolutionized pain control. Without local anesthesia, some dental procedures would be quite stressful for all involved. It's good for you and for your dental professionals… Read Article
No. You will be in a relaxed, tranquil state – but not asleep.
Some people elect Sedation Dentistry because they have sensitive teeth or exaggerated gag reflexes, while others have limited time for a visit or want to avoid discomfort and anxiety during their visit.
No. You will be taking a tranquilizing medication beforehand, and such drugs may impede your ability to drive. To be safe, ask a friend or family member to give you a ride to your appointment and a ride home after the appointment.?
Absolutely. You will be monitored at all times by dental assistants to make sure that you are not in any danger. You will never be alone and the procedure is completely safe.?
There are many factors that help determine whether or not you are a good candidate for Sedation Dentistry. If your fear about dental work creates anxiety during visits, you may be an optimal candidate for Sedation Dentistry.
Common reasons for Sedation Dentistry Include:
Traumatic dental history
Resistance to anesthetics
Overdeveloped gag reflex
Sensitive teeth
Complex and elaborate dental problems
Limited time to devote to dentist visits
Fear of needles, drills and shots
Anxiety caused by the noises, the smells and the tastes associated with dental care
If you suffer from any of these concerns, consider Sedation Dentistry as a solution for you. Don't let fear prevent you from having the bright smile and healthy teeth you deserve. With Sedation Dentistry, dental anxieties can be a thing of the past. Don't wait any longer – contact Dr?s Mann and Dolfi today!