Six Month Smiles
Most adults are unhappy with the appearance of their smiles. Crooked teeth make many people feel self-conscious, reserved, or even ashamed of their appearance… Now, adults all over the country can smile bigger and brighter than ever after wearing braces for only six months!
Six Month Smiles utilizes clear braces to gently straighten teeth in an average time of only six months! By focusing on the teeth that show when you smile and not making significant bite changes, your dentist can comfortably straighten your teeth and give you the attractive, pleasant smile you've always wanted.
Six Month Smiles is conservative, inexpensive, and highly effective. It may sound "too good to be true," but thousands of people around the country are living proof that this is real!
Below are 5 reasons why you should call for your complimentary consultation today!
Six Month Smiles? braces are clear
Wires are usually tooth-colored and very small
Treatment times usually fall within 4-9 months
Discomfort is minimal as teeth are gently repositioned
Cost is usually less than traditional braces
Before & After Six Month Smiles
Six Month Smiles Instructor – Dr. Ralph Dolfi
Dr. Ralph Dolfi graduated from the University of Pittsburgh School of Dental medicine in 1979. He has served as an adjunct professor at the UNC School of Dentistry, and has received advanced training at various cosmetic studies programs during his career. As well as being in private practice, Dr. Dolfi is currently a clinical instructor for Six Month Smiles. He teaches dentists from all over the country to help their patients smile with confidence. If you are not happy with the way your teeth look, come in and see Dr. Dolfi and remember? your fabulous smile is just 6 months away!
Watch Dr. Dolfi explain Six Month Smiles here!
Related Orthodontic Articles
Clear Orthodontic Aligners
The orthodontic treatment using clear aligners consists of a series of aligners that you change about every two weeks over a course of treatment lasting six to eighteen months depending on how much movement is needed… Read Article
Clear Aligners for Teenagers
Teens who regard traditional braces as restrictive, confining, and obstructive to their lifestyles now have another choice for orthodontic treatment: clear aligners. This advanced dental technology, originally geared toward adults, has recently evolved to treat a greater variety of bite problems in younger people. These improved orthodontic appliances can help teens function normally during a difficult phase of life… Read Article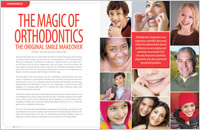 The Magic of Orthodontics
Proper alignment of the teeth is basic to ?Smile Design.? Their position dictates how they work together and affects the way you look and smile. Only orthodontic treatment can move teeth into the right position. Simply put, when things look right, they probably are right. Learn the basics of smile analysis and design and whether the magic of orthodontics will work for you… Read Article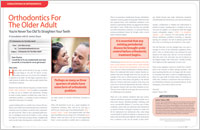 Orthodontics for the Older Adult
Healthy teeth can be moved at any age, so there's no such thing as ?too old? for braces. In fact, nowadays about one out of every five orthodontic patients is an adult. Yet this figure represents only a small portion of adults who could actually benefit from orthodontic treatment… Read Article