Dental Implants
The loss of a tooth can be both painful and embarrassing, but it doesn't have to be a permanent problem. A replacement tooth known as a dental implant can be placed into the jaw to repair the smile and boost confidence.
A dental implant is an artificial tooth inserted directly into the jaw through a simple and innovative procedure. Implants mirror the appearance and feel of a real tooth, can smooth out rough spots in a smile, and can improve a person's ability to speak and eat. Should there be any need for further dental work such as a crown or bridge, an implant also provides an excellent anchor for these replacements.
Most people find that implants feel more natural and secure than dentures and other substitutes. If you have otherwise healthy gums and bone, you could be an ideal candidate for dental implants. Don't let a lost or disfigured tooth cause unnecessary discomfort or shame ? call Dr?s Mann and Dolfi today and prepare to show off your new smile with confidence and pride.
Watch our video explaining Dental Implants?here!
Related Dental Implant Articles
Dental Implants – Your Third Set of Teeth
A discovery fifty years ago paved the way for one of dentistry's most exciting, natural looking and successful tooth replacement systems. Learn how dental implants might just possibly change your life… Read Article
The Hidden Consequences of Losing Teeth
For those missing even one tooth, an unsightly gap is actually the least significant problem. What's of far greater concern is the bone loss that inevitably follows tooth loss. Dental implants fused to the jawbone can preserve bone, improve function and enhance psychological well-being. Learn how implants serve both as anchors to support replacement teeth, and preserve bone as one of the better preventive maintenance procedures in dentistry… Read Article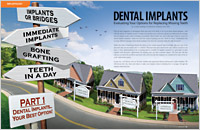 Dental Implants – Evaluating Your Options for Replacing Missing Teeth
As we guide you through the marketing hype you'll see that well planned implants most often require a team approach in assessing whether they're right for you. Not only are they a better treatment choice, they will last longer, possibly a lifetime, making them the right choice and the most cost effective option long term… Read Article
Implant Overdentures for the Lower Jaw
Implant overdentures represent a major change for the dental profession and the public. The lower jaw two-implant overdenture may be considered a more appropriate starting point over regular dentures… Read Article
A lucky few feel comfortable when they wear their dentures. Every other denture wearer is left to contend with slippage, wobbling, discomfort and in many cases, pain. This is because without teeth, the underlying bone deteriorates and the denture no longer fits. The lips are working so hard to keep the denture in place, a natural smile doesn't come naturally at all.
Dr. Mann offers a solution to patients who suffer from improper fitting dentures. The entire procedure can be completed in a matter of hours, with results that can be quite stunning. The MDI System also known as the Mini Denture Implants consist of a miniature titanium implant that acts like the root of your tooth and a retaining fixture that is incorporated into the base of your denture. The placement of the implants is accomplished quickly and easily in approximately 2 – 3 hours, using local anesthetic or light sedation to help make you more comfortable. MDI Implants are placed into the jawbone. The heads of the implants protrude from the gum tissue and provide a strong, solid foundation for securing your dentures. It is a one-step procedure that involves minimally invasive surgery, no sutures nor the typical months of healing.

Related Mini-Implant Articles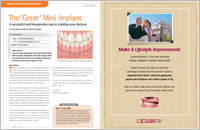 The Great Mini-Implant
A successful and inexpensive way to stabilize your dentures is with mini-implants. In a single visit, mini implants can be placed and your current dentures modified so that they fit much better and you can enjoy your favorite foods again… Read Article